Books
Pia Sabel plays to win.
Until a few weeks ago, she was an international soccer star. But now she's taken the helm of her billionaire father's private security company, and she's playing against a whole new set of opponents – the kind who shoot to kill.
On her first day on the job, MORE…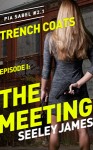 Trench Coats, Episode I: The Meeting
In the first episode, Pia Sabel, heroine of The Geneva Decision, is hot on the trail of abducted children when a powerful bureaucrat steps in, threatening to slow her down. But she was there—she saw the heinous crimes—and will let nothing stop her.
A few months earlier, she took the helm of her father's security company and nearly lost her life. MORE…