Books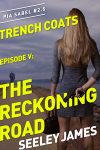 Trench Coats, Episode V: The Reckoning Road

Assistant Secretary of State Donald Patterson steps out of the shadows to take charge and solve problems.
Sabel Security Agent Jacob tracks down the remaining Syrians in Washington DC and follows the leads they give him back to the ringleader. Along the way, he uncovers disturbing information about the murder of Pia Sabel's parents.
Pia wants to free the remaining kidnapped children. But how can she and Tania take down armed guards holed up in a fortress? MORE…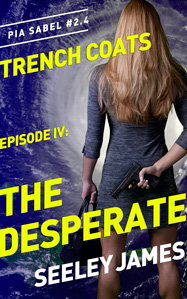 Trench Coats, Episode IV: The Desperate 
Sabel Security's Agent Jacob is desperate to rescue his kidnapped boss, Pia Sabel. And she's desperate to save twenty children from pedophiles, regardless of the danger.
Building on the first highly acclaimed episodes, The Meeting, Jacob's Story, and Bring It!, Episode IV follows Jacob Milik's dangerous and rash mission to rescue Pia Sabel against overwhelming odds as a hurricane bears down on his team. MORE…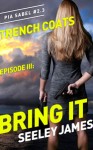 Trench Coats, Episode III: BRING IT! (FREE for a limited time!)
Could you sit idly by if you knew child-traffickers had set up a resort catering to pedophiles? Neither can Pia Sabel.
Building on the first two highly acclaimed episodes, The Meeting and Jacob's Story, the third episode finds Pia Sabel might have taken one risk too many.
When she discovers a clutch of abused children, she realizes she's deeper into a murky alliance of traffickers and bureaucrats than she imagined  MORE…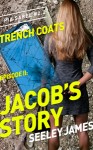 Trench Coats, Episode II: Jacob's Story (FREE!)
Building on the highly acclaimed Trench Coats, Episode I: The Meeting, the second episode finds Pia Sabel asking Agent Jacob Milik to research the attempt on her life. Certain she's conjuring up a nutcase conspiracy theory, he changes his mind when she disappears off the streets of Washington DC and someone throws a bomb in his car.
Agent Jacob might be a ladies man who has a crush on his boss, MORE…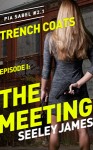 Trench Coats, Episode I: The Meeting (FREE!)
In the first episode, Pia Sabel, heroine of The Geneva Decision, is hot on the trail of abducted children when a powerful bureaucrat steps in, threatening to slow her down. But she was there—she saw the heinous crimes—and will let nothing stop her.
A few months earlier, she took the helm of her father's security company and nearly lost her life. MORE…
Pia Sabel plays to win.
Until a few weeks ago, she was an international soccer star. But now she's taken the helm of her billionaire father's private security company, and she's playing against a whole new set of opponents – the kind who shoot to kill.
On her first day on the job, MORE…