Ever wonder what how Pia Sabel and Jacob Stearne got started? For the true fan, Sabel Origins are the first two stories before Mercury came back into Jacob's life.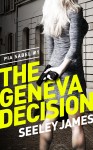 Sabel Origins #1 Introducing Pia Sabel
Pia Sabel plays to win.
Until a few weeks ago, she was an international soccer star. But now she's taken the helm of her billionaire father's private security company, and she's playing against a whole new set of opponents – the kind who shoot to kill.
On her first day on the job, Pia's client is assassinated in front of her. There's no time for training, so Pia must trust her instincts and athletic skills to unravel the complicated maze of money laundering and piracy that will take her from Swiss mansions to the jungles of Cameroon.
Her battle-hardened employees suspect she's just a spoiled rich girl with a mean corner kick. But Pia's got some unexpected moves of her own. Will they be enough to bring her team through its mission?
Sabel Origins #2 Featuring Pia Sabel and Introducing Jacob Stearne
Pia Sabel expected a little recognition after she liberated a pedophile resort in Sri Lanka, not a State Department inquisition. Forced to play the deadliest game of her life, she finds children molested and murdered under a new version of "enhanced interrogation tactics". Putting herself in danger to save the innocent, her overconfidence leads to agonizing torment.
Sabel Agent Jacob Stearne and his team of decorated veterans have lived through warzone horrors but nothing could have prepared them for the ugly reality they uncover. Fending off accusations of treason and terrorism, Jacob unravels a network of ambitious appointees and black-budget contractors to discover who is responsible for some of the most horrific crimes against humanity.
Widely praised by readers as the hottest new thriller series, Sabel Security Thrillers cover jaw-dropping stories featuring former soccer star Pia Sabel, and war veteran Jacob Stearne. Bring It propels Sabel Security's greatest challenge to its astonishing finish, proving why readers say, "I felt every ounce of rage and desperation."