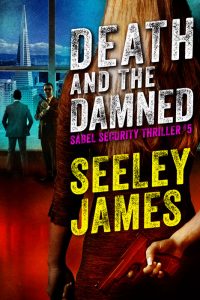 Why would a billionaire smuggle terrorists into the USA?
The fifth riveting Sabel Security thriller from bestselling author Seeley James featuring the unrivaled heroes Sabel & Stearne asks the question: who can you trust?
Veteran Jacob Stearne and athlete Pia Sabel race across the globe to find terrorists and the billionaire who financed them. Fleeing their pursuit, the terrorist leader eschews his morals to save his children and wonders, is he damned?
I fell in love with the characters and can't get enough of them. — BookFanatic
Jacob tries to save his relationship but can't shake the bad feeling about an American he rescued from ISIL. After a strange call from Syria, he asks questions of bureaucrats uninterested in the threat. When he discovers a plot against the American government, his mental health records surface and authorities dismiss what they perceive are delusions.
When the President answers Pia's lifelong questions about who murdered her parents, her world is shaken to its core. But before she can digest the news, she must uncover the billionaire who plans to destroy democracy itself. Should she include her boyfriend on the suspect list? Her father?
I felt every ounce of rage and desperation – CarolAnn, Amazon
---
Chapter 1
Who to trust is the scariest decision we make in life. I grabbed him by the hair, pulled his head back, and, cheek-to-cheek, we contemplated the sparkling stars dotting the moonless Syrian sky. I sensed his eyeballs strain all the way to the right to look at me. His fingernails dug into my forearm. Anxiety caused him to miss the grandeur of the moment. Too bad. It was stunningly beautiful. You don't see that many stars from over-lit American cities. But I tired of our two-second relationship and drew my blade across his throat, severing his carotid artery and larynx before he could scream a warning to the others. I dropped his carcass on the other jihadi at my feet. He trusted me because I speak Arabic. Bad idea.
I stared at the dead fighters and thought about how ISIL's perversion of Islam wasted so many lives.
But then, I'm hardly the guy to judge other people's religious beliefs.
Mercury, winged messenger of the Roman gods, waved to me from the narrow, dusty village lane. Earth to Jacob. Ain't the time for contemplative yoga, dawg. That monster raped three women yesterday. C'mon now. Get your head in the game. You need to find that cowboy.
After a decade guiding me through battles as a disembodied voice in my head, Mercury decided to make himself manifest. Some people would consider meeting god in person as a divine miracle. Others would encourage me to go back on my meds. Maybe I had taken a swan dive off the sanity cliff, but when I ponder how lucky I am to have god on my side—even if he's been surviving on unemployment benefits since the late fourth century—I count my blessings. And when he tells me to keep my eyes open for a cowboy in an ISIL-held Syrian town, I listen.