"Jacob and his sidekick god Mercury are two of the very best characters ever created." Cheryl Dalton, Secret World Book Club
Fast-paced, riveting adventures filled with extraordinary characters and impossible-to-call endings from new sensation Seeley James.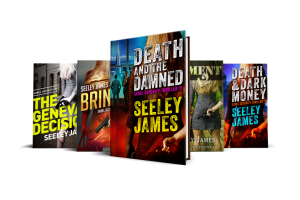 Want to try one first? Get the hit ELEMENT 42, a bestseller for FREE!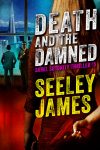 Why would a billionaire smuggle terrorists into the USA? The fifth riveting Sabel Security thriller from bestselling author Seeley James featuring the unrivaled heroes Sabel & Stearne asks the question: who can you trust?
Click on the cover to learn more, or go straight to your favorite vendor:
---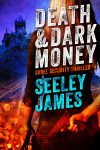 Can veteran Jacob Stearne and athlete Pia Sabel unravel a web of political intrigue, dark money, and murder in time to save the country? Click on the cover to learn more and read the first chapter, or go straight to your favorite vendor:
---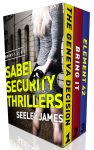 Veteran Jacob Stearne and athlete Pia Sabel are all that stands between right — and a world full of deadly wrongs. The pair takes on corrupt politicians, rogue corporations, and terrorists in three novels ripped from tomorrow's headlines.
Join over 100,000 readers riveted by nearly 1,000 pages of murder, betrayal, rogues, and traitors. From the origin story of THE GENEVA DECISION, the horrors of corrupt politicians in BRING IT, to the madness unveiled in ELEMENT 42, you'll love the irresistible characters, the chilling evil masterminds, and gripping situations. As one VineVoice reviewer said, "I could not put this book down."
MEET PIA SABEL AND JACOB STEARNE
Jacob Stearne was a killing machine for the Army until he started listening to Mercury, winged messenger of the Roman gods. Now he works for Sabel Security. This irresistible hero is definitely lethal—but is he divinely guided, completely insane, or the next rampage killer?
Ever since Pia Sabel witnessed her parents' murders, she's been looking for ways to eliminate the corrupt and murderous. When her adopted father hands her the keys to a security company staffed with battle-scarred veterans, she discovers her calling as an avenging angel.
BUY NOW on:
AMAZON Int'l Nook/BN.com Kobo Books Apple iBooks
---
Element 42 (Sabel Security #3)
Pia Sabel and Jacob Stearne race to save their friend, and the world, from Big Pharma gone rogue after they stumble into a clinical death camp in Borneo. Would a pharmaceutical company really engineer a deadly disease that only their patented drug can cure just for the astronomical profits?
Jacob had just reached a comfort level in his life with a new house, a puppy, and a possibly serious girlfriend. But then the unstable voice in his head returned, complicating his mental health as much as – MORE…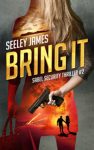 Bring It (Sabel Security #2)
Pia Sabel expected a little recognition after she liberated a pedophile resort in Sri Lanka, not a State Department inquisition. Forced to play the deadliest game of her life, she finds children molested and murdered under a new version of "enhanced interrogation tactics". Putting herself in danger to save the innocent, her overconfidence leads to agonizing torment.
Sabel Agent Jacob Stearne and his team of decorated veterans have lived through warzone horrors MORE…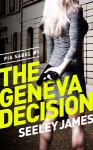 The Geneva Decision (Pia Sabel #1)
Pia Sabel plays to win.
Until a few weeks ago, she was an international soccer star. But now she's taken the helm of her billionaire father's private security company, and she's playing against a whole new set of opponents – the kind who shoot to kill.
On her first day on the job, MORE…