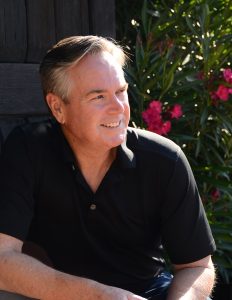 His near-death experiences range from talking a jealous husband into putting the gun down to spinning out on an icy freeway in heavy traffic without touching anything. His resume ranges from washing dishes to global technology management. His personal life stretches from homeless at 17, adopting a 3-year-old at 19, getting married at 37, fathering his last child at 43, hiking the Grand Canyon Rim-to-Rim at 59, and taking the occasional nap.
His writing career ranges from humble beginnings with short stories in The Battered Suitcase, to being awarded a Medallion from the Book Readers Appreciation Group. Seeley is best known for his Sabel Security series of thrillers featuring athlete and heiress Pia Sabel and her bodyguard, veteran Jacob Stearne. One of them kicks ass and the other talks to the wrong god.
His love of creativity began at an early age, growing up at Frank Lloyd Wright's School of Architecture in Arizona and Wisconsin. He carried his imagination first into a successful career in sales and marketing, and then to his real love: fiction.
Want to blow an hour listening to me pontificate on the craft of writing and my journey? The incomparable Simon Whistler interviewed me on his industry leading show Rocking Self Publishing Podcast.
Would you like a free e-copy of Element 42, the groundbreaking novel that made thrillers fun? Tell me where to send it by clicking here!
For more books featuring Pia Sabel and Jacob Stearne, visit the BOOKS page. Be sure to join the mailing list for updates, new releases, giveaways, and prizes!
Contact Seeley James:
Email
Facebook
BookBub
Amazon
Seeley is a proud member of the Alliance of Independent Authors.

For those of you who prefer a serious author, he can fake it once in a while: