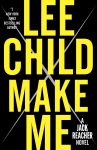 Every book must have magic to be successful. George RR Martin has dragons. James Rollins has telepathic marsupials. Zoë Sharp has wit and humor.
Lee Child puts magic in the narrative voice.
Jack Reacher novels are great stories, full of questions the reader must have answered: Why would farmers bury strangers? How is he going to beat that many guys? How could he possibly sneak in?
But more important than the story is the simple beauty of the narrative:
A long minute before the train was due Reacher heard the stones in the rail bed click and whisper. Then the rails themselves began to sing, a low steely murmur, building to a louder keening. He felt the pressure in the air, and saw the headlight beam.
Back in the old days, movies were full of Indians putting their ears to the rails, looking up at the white man and saying "Iron horse comes in six minutes, twelve and a half seconds, approximately, Kimosabe." As the son of a railroad buff, I spent my early years with my ear to the rails. Trust me: In America, you will see a train long before you will hear it. The rail beds are in terrible shape (which is why we don't have high speed rail, btw) and barely transmit the cars from one rail to the next, much less sound. But it doesn't matter because the way Lee Child wrote that passage, you can feel, hear, and taste that train coming for you.
He shakes the book in your hand.
Magic.
And then there is the other Lee Child. The one who told Playboy in 2012 that he smokes weed five out of seven nights a week. I quit toking at seventeen because it turned me into a space cadet. Now, forty-two years later, I discovered it does the same thing to the greatest writer of our time. Case in point:
The eastern horizon was black as night, and it stayed that way, until at last a person with straining wide-open eyes might call it faintly gray, like the darkest charcoal, which lightened over long slow minutes, and spread, side to side and wafer-thin, and upward like tentative fingers on some outer layer of the atmosphere, impossibly distant, the stratosphere perhaps, as if light traveled faster there, or got there sooner.
Yes, Cadet Child, sunlight will reach the stratosphere first, simple physics.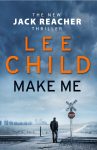 Grab a globe, a pencil, and a strong flashlight and work out the geometry. Exactly the experiment I did when I was seventeen and high on Maui Waui. Even so we have one of the finest sunrise descriptions of the century. (It goes on from there for another paragraph, but you should read it in situ—and stoned.)
The biggest impact Lee Child has on the world around him is his influence on the literary world. Twenty years ago he wrote the simple sentence-paragraph: Reacher said nothing. The hero who says nothing became a staple phrase ever since. If you read a body of work by any contemporary writer, you can pinpoint when he/she discovered Lee Child because they began using that phrase in their next book.
I've gone out of my way to say the same thing better, but never got there: She stood still. Jacob didn't speak. Pia gave no answer. See? Not the same.
Magic.
Any writer who reads Lee Child can only be inspired by the work. It's unavoidable. In my current work in progress, I agonized and obsessed, and moved on, and came back to, and rewrote the impression an antagonist forms when she first observes my heroine. Mr. Child's introduction of a character had no similarities, and is found in a different context, but after reading this:
Up close and in the daylight she looked better than the night before. Dark lively eyes, and some kind of purpose and intelligence in her face. But some kind of worry, too.
I dropped MAKE ME and fired up the word processor, inspired to write this:
Marthe watched the young woman's gaze stab the frail mortals around her, driving through the eyes, up the optical nerve, bypassing the brain with all its lies, and down into the heart and soul of each person who spoke to her, like some alien god brought to life from the pages of science fiction.
What is MAKE ME about? Beats me, I was lost in the magic.
Interesting note: Mr. Child reveals that Jack's now fifty-four years old, give or take. And that makes him a hell of a lot stronger and healthier than I was five years ago, or most men my age, for that matter.
It may have been an oversight on the author's part, but I doubt it. Lee Child brags about Reacher's math prowess.
Conclusion: Lee Child is the most important writer of our time. He has no equals and only Roger Hobbs as an heir-apparent. So read MAKE ME and observe the master in his element.
Peace, Seeley