I drew a name from newsletter subscribers for a coffee mug bearing the inscription, "We weren't star-crossed lovers. We were fragments of the same shooting star." And Tawny Goodweilér Green in California won it!
Congratulations, Tawny. It will be a one-of-a-kind mug.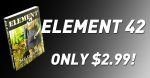 I also ran a Goodreads giveaway and the winners there were Sarah Covington from MN; Beverly Follett, AZ; and Terry Parrish, KY.
Going forward, all giveaways will be to subscribers only and I'll have one giveaway per month. So, signup now! And leave a comment about what kind of giveaways you like.
The May giveaway will be a t-shirt inscribed with a quote. Send me your favorite quote, or choose one of these:
a) Get on the right side of history for once –Pia Sabel
b) You get me in with these psychopaths and we can find a demi-god role with your name on it – Mercury, Messenger to the Gods
c) Who do you trust, a long forgotten god—or satellite GPS? –Jacob Stearne
ELEMENT 42 is drawing great reviews. "What I enjoyed was the constant humor that is thrown in with the steady action adventure." Statements like that one from Rosemary Valdez tell me I've hit the target. "A(n) excellent fast moving action thriller…" from the tough critic Eric Crown (founder of F500 corp Insight Direct) are inspirational. Please, leave one for me. Even if it's a swift kick in the pants!
Peace, Seeley