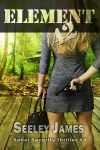 After months of restarts and rewrites, Element 42 is available for pre-order! I've scheduled it to go live on 07-April, if you're marking your calendar.* I only have to mop up a few more details.
It's taken a long time to get here, but I think it's worth it. I've developed a few character twists that I hope you will find interesting.
The link between madness and genius has been explored many times, but most often with high achievers or great artists. In my estimation, there are more mad-geniuses among us than one might imagine. Maybe you're one of them.
I'm referring to everyday people who excel at less-than-newsworthy positions. People like former soldier Jacob Stearne. And people like my beloved grandmother, may she rest in peace, who kept up a running conversation with an unseen adversary for decades. No one in the family ever figured out who she was talking to because she muttered the arguments under her breath, but her buttermilk biscuits were so flakey we didn't care.
Another fascinating facet of the human mind is some people's ability to speak to God. Or so they claim. I've counted myself as a practicing believer for nearly thirty years. I've spent many hours in meditation and prayer. I often wonder who those chosen few are engaging. Is it truly the creator of the universe? Isn't it convenient she speaks English?
The humorist in me simply can't resist exploring the satirical answer: what if it's the wrong God? What if the Pope prays and Vishnu palm-slaps his forehead and says, "How many times do I have to tell you—I'm blue?" What if the Buddhist meditates and hears the Almighty reply, "Oy vey ist mir."
In Element 42, I investigate these concepts plus climate change, pharmaceutical companies engineering diseases for profit, methods of population control, and sex.
I've posted a new page for the book, including the first chapter. Read it and let me know what you think.
Peace, Seeley
* Could you at least pretend to mark your calendar? It would make me feel better. Thx.