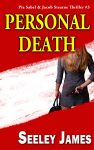 PERSONAL DEATH, the third Pia Sabel thriller, is nearing completion. What struck me as I worked through the first draft, was the big problem facing all series' authors: no matter how much peril the hero/heroine is in, s/he has to live for the series to survive. My wife quit reading Karin Slaughter when she killed off Jeffrey Tolliver, feeling that the second main character died for nothing more than shock value. Fair or not, she was not alone. As a writer, I feel Ms. Slaughter's pain.
On the flip side, you have George R.R. Martin who kills off everyone. Anyone with a close-up on Game of Thrones is going to die – and die horribly. The viewer's game is to guess how and when and by whose hand. It's become a sport at our house.
But death isn't that easy in real life.
Have you lost someone close?
The death of a loved one is never as unremarkable or thoughtless as thrillers too often portray it. Death wounds us. It leaves us with an empty space that can never be filled.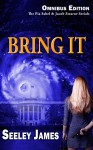 Writing a death scene that honors the character and evokes a loss in the reader's life, without exploiting it, is my goal in every book. But as the series continues, the minor characters become obvious targets. The original Star Trek introduced "red-shirt" to the common vernacular by killing off the new guy (who wore a red shirt) on every show.
One thing I liked about Breaking Bad was that the characters agonized over every death. The body count was not high, nor was it trivial. Each dead man had loved ones who mourned his loss or partners who were shocked by his murder. Even the inconsequential assistant who had his throat cut–just to make a point–shocked the bad guys, good guys, and viewers alike.

How should an author write about death? What kind of danger will keep readers guessing without falling into the "gratuitous" pit?
The title* of this book indicates where I'm going with this post. Which character can I  dispatch without hurting the reader too much? What is the right way to handle the loss of that character? How much should the other characters grieve? I weighed these questions carefully as I wrote PERSONAL DEATH. I carefully planned the cold-blooded murder of a character whom I liked very much. It was painful to write and rewrite. I can only hope it works.
Who wrote your favorite death scene?
Peace, Seeley
* The title is still in question, your thoughts appreciated.