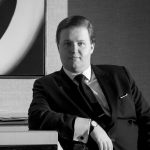 Roger Hobbs' debut novel Ghostman has been nominated for every major award in the publishing business. I found it one of the best crime novels I've ever read, and The New York Times agreed.
I hounded Mr. Hobbs for an interview because what amazed me most is: he's young. Name a famous author and his/her age at their first award. He's younger. James Patterson published his first book at 49, Lee Child at 43, Mr. Hobbs beat them by half. (And yes, he is on their level.) I expect we'll hear a lot more from him in the coming years. Here are his thoughts and methods on writing:
Q: Toward the end of Ghostman the narrator says, "Some kids collect model planes. I read Latin. It isn't that hard to understand. I loved reading so much, plus I wanted to be Aeneas." Is that autobiographical?
No. Sort of. Like Ghostman, I grew up with obsessive hobbies, though not Latin. Instead of going to middle school, I played chess. I wasn't as good as I wanted to be so my obsession turned to storytelling. I wrote my first book when I was 13, my first national publication at 19. I was blessed with knowing what I wanted to do at a very young age.            
Q: It's been a year of collecting awards for you, the Ian Fleming Dagger, The Seeley James Award, The Strand Critics, to name a few. How do you keep sane when your career starts so well?
When I find a way, I'll tell you. Sanity has never been my strong point. I find it's a common problem in our profession. You have to be a little crazy to decide, I'm going to lie to people and get paid to do it. The awards are great. I've been nominated for all of them but since this is my first book, I don't have the perspective an older writer would have. I don't know any different. I go to the award party and have a good time whether I win or not.
What I expected to be doing at this stage in my life was flipping burgers and deep frying things, so I see all this as a gift.  
Q: You majored in English, but also studied Film Noir and ancient languages. How have those two subjects affected your writing?
Film Noir was definitely helpful. I loved the crackerjack dialogue common to mid-century Noir. I love how quickly and effortlessly a film can draw you into a particular world. Many of them weren't realistic in anyway. They were believable if they happened in a version of reality that we wanted to believe, that was so cool and different from our own, that it was uncanny. I wanted to write a book that was set in a world that was not our own but interesting enough that it holds the reader's attention.  
Q: You published several short stories in publications such as Thuglit prior to publication. The voice and pace will sound familiar to Ghostman readers. Were you honing your craft intentionally for the book or did your book evolve from the short stories?
My first Thuglit story was called "What's Inside", which I wrote between my sophomore and junior years in college. That was in the middle of the great recession and I couldn't find a job anywhere, so I decided to get as many bylines as I could. It was a heist story featuring an armoured car. My agent, Nat Sobel, liked it so much that he asked to read my books. He hated them. The next summer, I wrote Ghostman because I realized I could do a good, hardboiled criminal voice.  
Q: On Goodreads, you talked about doing a significant amount of research for your book, including associating with criminals, reading books on safecracking, hanging in web chatrooms, casing casinos, etc. The net result was enough phenomenal detail to earn you high praise from NYT's notorious critic Michiko Kakutani. How much time did you put into your research?
It's hard for me to gauge relative to other writers because most of my writer friends just make everything up. Not all of the information in Ghostman is true. My research serves the purpose of knowing how crime is done in real life. Either I find something really cool that I want to include in the book or realize that this type of crime is really boring.
For example, there is no such thing as a ghostman. Another thing is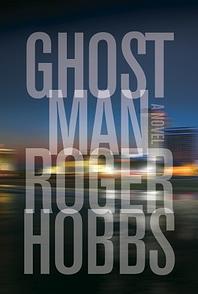 the Federal Reserve money having a GPS tracker and exploding ink packs, that isn't true. But it's believable because I threw in some authentic, juicy details about the Federal Reserve. I did do a lot of research there. I took the tours; I saw how money is made; I walked the floors and touched the machines. The purpose of my research is to make the world feel more genuine, not to make it be more genuine.  
Q: You wrote Ghostman in the lunch room of Reed College, how many drafts did you go through?
I am a draft machine. That's the biggest part of my system. On my computer, I have two documents open at all times. The one on the left is where I do all my work. I write and write and write without worrying about it being good or even coherent. Then I copy the writing that's anywhere near decent and I paste it into the document on the right. I save a new version of that document every day.
Ghostman was probably completely rewritten seven or eight times. I probably wrote something like 600,000 words to get a 100,000 word novel.  
Q: How has your writing process changed between Ghostman and the upcoming Vanishing Games?
When I wrote Ghostman I was under a ton of time pressure. I needed to get a final looking, or final-ish, draft as soon as possible. With Vanishing Games I was able to take my time. I could focus on making it as good as I could possibly get it.  
Q: You have a lot of literary gems such as, "He finished a big bone of crystal meth with a slurp. His eyes watered up. A friend of his had cooked the crank up in a trailer west of the Schuylkill. It was low-quality Strawberry Quick, but he didn't care."  Can we expect the same gritty details in Vanishing Games?
Yes! It's been a lot of fun researching Vanishing Games because I already knew a lot of those cool, criminal details about Philadelphia but Vanishing Games is set in China. I've been living and traveling back and forth between Hong Kong and Macau trying to learn all about their gritty underworld. It's one of the greatest perks of my job. I get to travel the world and meet exotic and scary people and stay at great hotels and write it all off. Ian Fleming invented that, that's why all the Bond books are set in exotic locations.  
Q: POV is tricky for many authors. Ghostman opens with what appears to be third person, past tense but ends with the sentence, "It took another two hours for someone to wake me." Brilliant way to break all the rules, how did that evolve?
I'd written a couple versions of that prologue. I knew that I wanted to write the main trunk of the book in first person but prologues are usually in third person omnipotent. I was writing a scene early on where Jack is talking to Marcus and he was going to tell Jack everything that happened in the prologue. So why not have the prologue be an artifact of that storytelling? The prologue is still just Jack telling the story masquerading as the author.
I went back and forth with my editors about that last line that reveals the prologue has been secretly first person the whole time. Half the editors really loved it and the other half hated it. I really liked it. I think it's shocking and intriguing in a way that's very technical. As a reader, we're used to those fade-to-black endings being surprising, but not surprising from a technical standpoint.  
Q: First person is a popular POV for debut novels. Had you worked or experimented with third person before?
Half of Vanishing Games is in first person and half in third. The first books I wrote were in third person because I felt it was important to learn how to do that. First person made it much easier for me because I could get into the character's head and make sure the character is always doing something. The book occurs in real-time, and doing that in third person is really hard.  
Q: Do you follow any story construction techniques before beginning a story?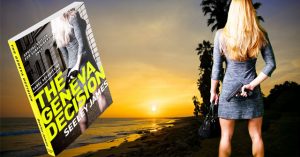 I almost always have an outline, not that it does me much good. Usually the outline goes out the window by the time I've written two or three chapters. I only start writing once I have a pretty good idea of what the book is going to be. There's a huge mental gap between what I want to write and what I ultimately can write. A big part of my development as a writer is learning what I can write.
Q: What is your revision process before you send it to an editor?
I love my editors. The first person to read the book is my agent, Nat Sobel. The only person I'll show unfinished text to. He's the only person who knows how really bad I am at this. He gives me feedback on the story and the characters. He'll say things like, "This character is saying things he wouldn't say." And things like, "This sequence is way too impractical and you should probably get rid of it." That's incredibly helpful. Even though I only take sixty percent of his ideas, they always spark me to come up with another idea for my next draft.
My next editor is Gary Fisketjon. He is a line editor. He goes through with a green pen and strikes words, moves things around, and makes sure the book is as beautiful as it can be. He gives me options. I write in a certain style and he helps me play around with that style.  
Q: How do you write dialogue? Does it flow onto the page or do you script it first?
My side-by-side writing structure creates enough text to write the chapter three times over. The process I focus on is picking which text is good enough to be in the book and where it should go. There's a Hemingway quote, "The most essential gift for a good writer is a built-in, shock-proof, shit detector." The one thing I've found among amateur writers is that they all think their work is great. All the pros I've talked to (well, half of them drink heavily to get over how bad their writing is) don't have that rose-tinted opinion of their work. They know when their work isn't good enough.  
Q: Do you have any bad habits you that creep onto the page and, if so, what are they?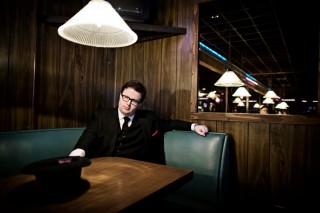 Often I will digress, telling a little anecdote, and spend a whole day writing this little thing until I realize it isn't essential to the story. The real gems make it in, like the wolf's story with the little girl and the spray paint. And the story of Marcus and the nutmeg. Sometimes I get really lost telling those stories. But my real bad habit is a carry-over from writing in third person, over-blocking a scene. Whenever a character moves around, lights a cigarette, rolls his eyes, lowers his head, I'll dedicate a whole sentence to that. I'll over-block the scene which is boring and unnecessary because I'm describing a scene in my head.  
Q: What are your pet peeves or clichés in writing?
I don't have any. I'm a big appreciator of clichés. I'm in a genre that thrives on cliché, telling the same fifteen stories over and over in different ways. The best writers are the ones who deliver what I expect and do it in a new and exciting way.
Q: What part of being an author do you find the most difficult?
The amount of time I spend alone in a room talking to myself, the loneliness. I try to go out (Starbucks or something) but I tend to work in really long binges. When I sit down to work, I usually work for twelve to fifteen hours and it's difficult to find a coffee shop that's open that long.  
Q: Who is your writing role model?
Donald Westlake, he was able to create an incredible amount of quality work over a very long career, both of which I aspire to do someday. He wrote the Parker series of which my favorite is The Man with the Getaway Face. Many of his books were made into movies. His most famous is The Hunter. Payback with Mel Gibson was based on The Hunter.  
Q: What book have you read recently that blew you away? I Am Pilgrim by Terry Hayes, an exceptionally well-written first novel, it's like a thousand pages, and it's just incredibly good.
Q: What advice do you have for writers just starting out? Find a publication and write for that publication. Learn to write for an editor as opposed to writing first and then trying to find an editor. When you write for a small publication, you learn to tailor your writing to your audience. The number one problem I encounter with aspiring writers is they've pulled themselves into a particular style and genre and they're looking for someone to publish their work.
Many thanks to Mr. Hobbs for joining us. Vanishing Games comes out next spring (2015).
Peace, Seeley