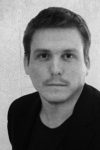 Almost all marketing plans mention building an email list. When I wanted to cover this all-important topic in detail, I turned to wildly popular indie-author Nick Stephenson, author of the bestselling Leopold Blake thrillers, for advice. His methods are highly effective and easy to do. Enjoy!
Tell us about your books, sales, & email enrollment program:
It's a touchy subject for a lot of authors; the prospect of actually selling direct to readers. I understand it, really I do – it's difficult enough to put all of yourself into writing a book, without having to go out and actively sell the damn thing.
Fortunately, many of us can rely on advertisers to do the hard work for us. Problem is, most of the time we struggle to break even with these services, and, sometimes, services are so oversubscribed that getting the spot you want is almost impossible. Tried getting a Bookbub ad recently?
But what if you could build up your own advertising platform? One where you didn't have to discount to 99c or free, and one where everybody's already heard of you?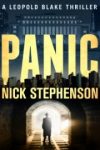 That's what I wanted to do. Email marketing is the most effective form of direct marketing there is. Average click through rates are almost FIFTY times higher than social media ads, banner ads, and other kinds of "cost-per-click" and "cost-per-thousand views" options.
And it's also totally free.
What was the idea you dreamed up and what drove it?
At the end of 2013 I decided I wanted to focus on building up an email list. I had set something up previously; a simple "sign up here for new releases emails" link at the bottom of my website, but I was only seeing 5 or 6 people signing up each month.
I figured – what's the incentive? If my readers are anything like most people, they'll probably figure "nah, I'll just keep an eye on Amazon if I want to get the new one" and then promptly forget about me after a couple of days. That's no good. That's a lost sale right there.
So, I figured I'd give people a reward for signing up. In December 2013, I started giving away a free book (a novella of 25k words) in exchange for an email address. The results? My subscriber rate shot up to 80 – 90 people a month, without any increase in website traffic. I was converting visitors to signups at a rate of about 35%. Not bad, but definitely room for improvement.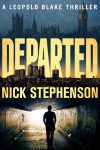 Finally, in April this year, I set up a custom "squeeze page" on my site, devoid of any links or buttons whatsoever – except for the email signup button. That way, visitors could either sign up, or leave, with no distractions. As a result, I started converting at 60%.
That's a pretty badass improvement. But, still – 60% of 300 monthly visitors wasn't going to cut it. I needed more traffic. I needed more GOOD traffic. So, I used one of my permafree novels as a traffic funnel – I put links to my site in the front and back matter, and mentioned in the product description that another free book was available at my website. The results? I went from 2 or 3 signups a day to over 20 signups per day.
For free.
That's 600 new readers each month, signed up to receive updates from me. That figure goes up even higher in months where I promote heavily – with a 60% visitor-to-signup conversion rate, my most recent Bookbub promotion scored me an extra 500 subscribers in one day.
I was pretty blown away.
Were you concerned about freebie-chasers?
Just to make sure I was actually gaining engaged subscribers, I made sure to email everyone when my latest novel came out at the beginning of May. At the time, I had 1,400 subscribers, and about 700 of those had signed up in exchange for the free book over the last few months. There was some concern that these guys might be "freebie chasers" and not interested in any paid offerings.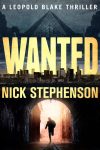 There was no need to worry. I actually managed to IMPROVE my engagement scores, with an email open rate of 48% and a click-through rate of 17%. For comparative purposes, that's about double the industry average – so a pretty good result. As far as I could measure, I had a buy rate of about 5% in the first 24 hours – so my launch day sales were enough to get me on the radar with around 70 sales. That's $190 pure profit, and I didn't have to give any of it to advertisers.
How did you implement your plan?
It's pretty simple to set up. Get an account with Mailchimp, put their signup form on your website, then configure Mailchimp to send a "welcome email" to new subscribers which contains a link to download your free book (or whatever incentive you decide to use). If you want to see how I did it, here's my squeeze page: http://noorosha.com/free_download
Do you have 2 lists, blog and book?
I do have two lists – I have a New Releases List, which goes out to readers, and a list that goes out to my blog followers. My blog followers are mostly authors, so I tailor the messaging and emails appropriately.
How you feel about the methodology now?
It's a fairly straightforward approach, and it's running on autopilot. My only challenge is to try and keep a healthy list – so that means going into Mailchimp every once in a while and clearing out the email addresses that aren't engaging. But that's just generally good housekeeping.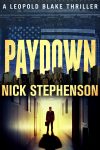 Overall, a couple of thousand people is NOT a big mailing list. But if you can make a 5% conversion rate, with $2 – $3 a sale, imagine what launch day would be like with 10,000 subscribers – you'd sell 500 copies right off the bat. What advertisers can offer that kind of performance without making you jump through hoops and pay through the nose?
And if you can get an extra 20 signups a day, you'll be there in 18 months. A drop in the ocean – and it won't cost you a penny to get started (Mailchimp charges you to send emails once you go above 2,000 subscribers, but you can shop around).
What would you do differently?
I'd have started earlier, for sure!
 Many thanks for your sage advice, Nick!
Peace, Seeley