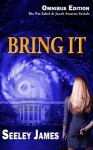 Ever been through big changes at the wrong time but for the right reasons? Check my latest book. What changed? Oh, the title, the main character, the voice, a couple surnames, that kind of thing. I published Bring It, the compiled episodes of the serialized thriller formerly known as Trench Coats, with all those changes and more.
Marketing 101 teaches us that branding requires consistency. So why did I break that cardinal rule?
Because of you.
Originally, I planned Trench Coats as a serial specifically to experiment with characters, points of view, and voice. Not to pander to shifting tastes but to tweak what my fans liked best. My first book had characters and plots that you liked. I wanted readers to rave.
When I published The Geneva Decision, I knew Pia Sabel was a strong heroine, but she had problems. Men thought (hoped?) a woman could never beat up a man. Women thought she was too beautiful (she's described only as 'tall'). My wife's said, "She's not fun." So I set out to form a better presentation.
I sketched an outline of a serial with six episodes highlighting ten different points of view and four varied characters. The first episode featured Pia Sabel in her commanding style.
Then things went sideways.
Enter Jacob Stearne. His intended role was to bring you behind the scenes of a rescue operation. Instead, he stole the spotlight.
Why is he popular? Because he's not too much of anything. He's not too smart, not too handsome, not too strong, not too mean. He's an all-American guy who's always on the prowl but manages to get the job done. He's the kind of guy you'd like to have behind you in a bar fight. And definitely the guy you want to lead the rescue if you've been kidnapped and waterboarded. You just have to hope there aren't any women who might distract him first.
My beta readers' favorite line for this character was, "I lost my virginity in a farm shed. Several times." I don't know why that line resonates with you people, but there you have it.
He's not my alter-ego, he's my imaginary friend. And, judging from some of your reviews, he's become an iBFF for some of you too. Jacob Stearne has taken over the lead full time, starting with my next book (working title Blue Death). Pia will still be the driving force in the story, but we will see her through Jacob's eyes.
So, I figured, if I'm switching the lead character, switching to first person, why not change the title? I know it's a bad idea but I have such great readers! I know they'll help me. Right? Right?
How? Please write a review on Goodreads or Amazon*.
If I can get 5 new reviews this week, I'll make a video of me doing/attempting a stupid-human trick of your choice (please be kind, I'm old and unpretty).
What do you think of the changes?
1)      Title changed from Trench Coats to BRING IT!
2)      Jacob Milik became Jacob Stearne (I ran a poll, Stearne tied with Novak—then my wife voted).
3)      Edited out fun but extraneous passages lowering word count by over 10,000 words.
4)      Changed POV from 3rd person Pia to 1st person Jacob (mostly).
5)      Promoted Jacob to central character.
6)      Made it more fun.
Peace, Seeley
* I've gifted ebooks to lots of people but I'm terribly disorganized – if I missed you, send me an email and I'll get it out to you. (Sorry, the paperback version is still a few weeks away.) If you'd rather eat scorpions than have to read my book, don't say anything and you'll be fine.