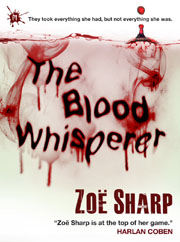 Zoë Sharp has many fans who follow her ten Charlie Fox novels. I'm one of them. When I saw she'd written a new book with a new and different heroine, I gave it that same skeptical nose-up-glance you're doing right now. Wait a minute, could the new concept be as good as the old one? Or is this New Coke?*
Blood Whisperer is an exciting, entertaining, and engrossing story that will keep you guessing from start to finish. The new character, Kelly Jacks, is a terrific leading lady!
Your new heroine has a different skill set from your run-of-the-mill heroines. She's not a killer or a secret agent or a fighter, she's a disgraced crime scene investigator. A science-techie who did some hard time. She's distinct, unique, and fascinating.
As always, what will draw you to the story is Ms. Sharp's writing:
Lytton's jaw tightened. "You'd rather I'd asked Mrs P to sweep up the pieces of my wife's skull, wrap them in newspaper like broken glass and put them in the dustbin with the potato peelings and the remains of last night's supper?"
Oh … sorry, were you eating? Not to worry, Ms. Sharp also sprinkles her tale with just the right levity. Here she colors the scene of a low-rent district:
Somewhere nearby a baby cried continuously and a man banged on a distant wall and yelled for quiet with no sense of irony.
The story is told from several points of view. A technique only a master writer can work without driving readers mad. Ms. Sharp pulls it off so expertly that you won't even notice the changes. No small feat, and yet each chapter flows as naturally into the next as Class VI whitewater rapids.
Kelly Jacks is the centerpiece of all those viewpoints. You'll want to know what happened to her in the past, why things are happening to her now, and what will become of her. At the same time, Ms. Sharp allows you a little confidence in her capabilities:
His daughter Allison was less than half Kelly's age and he wouldn't want her going out at night dressed like that. Mind you, Allison didn't have the same kind of self-possession. There was something about Kelly that made trouble step off the kerb and go round her.
If you like mysteries, you'll love the story. From the unique opening scene, to the small group of distinct suspects, to the uncertain peripheral population, Ms. Sharp keeps you guessing. There are some you're sure of, some who are questionable, and some you know are up to no good. But your top three suspect list will keep changing right down to the final scene. If you're like me and like to brag, I had it figured out on page 123, you'll find yourself revising your guesses with every chapter right to the end.
Bonus: If you're a Zoë Sharp fan, you still get that trademark petulant wit:
He grinned. "You're a real star Kel, y'know that?"
She cocked her head on one side. "What—very dim and far away?"
The bottom line is, this is a great new character from a great author. My one big hope: that Ms. Sharp is working on the next installment for both of her awesome heroines.
Peace, Seeley
* For you younger readers: in 1985 Coca Cola announced a replacement of the original, 99-year-old soft drink formula. Big mistake. Three months later, they began producing two brands, New Coke and Coke Classic. (New Coke died a slow and painful death, alone and unloved, seven years later.)
.