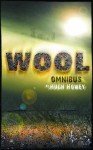 Exquisite writing makes for an unusual story. Far outside the mainstream formulas for any genre, this book stands alone as a masterpiece of both writing and creativity.
No doubt regular readers will express some disappointment that I've departed from my 'thrillers only' mantra—I assure you, I've not.
This is a thriller. Well. OK, it's dystopian (including a fantastic passage about how civilization ended and who ended it) which typically falls under Science Fiction. But that category doesn't do this book justice. Science fiction is full of aliens and space ships and planets and tribbles.
Wool has none of those things.
Wool could be more accurately called of a collection of highly sophisticated literary short stories. But to do so would not do it justice. And using the word "literary" would kill a great book.
No doubt you are like me: you once forced yourself to read tome after tome of literary novels because that's what the intellectuals at cocktail parties were talking about and you wanted to fit in, to impress them, be admired … No? Oh. Well. Guess it was just me then. Anyway, I plowed through the New Yorker week after week (still do sometimes) reading beautifully written but terribly boring stories that overanalyze the minutia of everyday life. These stories go into such intuitive detail that you can feel the rain drops on your skin. But there are no explosions, no murders, no evil overlords, no car chases. In short, they're no damn fun.
Wool is a literary story because the passages are vivid, visceral, vibrant … vicious, viscid um …OK, that's all the v's I can think of.
Wool is a thriller because the tension starts in the first sentence and doesn't let up until the last page. Hugh Howey doesn't even give you a cool-down lap at the end. When you put it down, you want more. And lucky for you, there is more.
Let me show you what I mean. Here is a passage following two senior citizens taking a journey down a long spiral staircase together. Mr. Howey's understanding of the elderly belies his youth:
The two of them fell into a rhythmic pace, the reach of each foot hovering over the next tread, a sort of collapsing of the bones, a resignation to gravity, falling to that foot, sliding the hand, reaching the walking stick forward, repeat.
And later, the older people enjoy a forbidden night together:
She slept with a man in her arms for the first time in decades, and woke to a bed familiarly empty, but a heart strangely full.
Mr. Howey continues his exemplary writing in a passage about contrasting forms of leadership. Two rebellious leaders, who've sparred in front of their factions, have decided to work together and need to reconcile:
She gifted him with a rare grin, and Knox felt himself beaming in return. And right then he knew, instantly, why her people were devoted to her. It was similar to the pull he had on others, but for different reasons. People feared him and wanted to feel safe. But they respected McLain and wanted to feel loved.
But ultimately, the philosophical passages are awesome for their simplicity:
"None of us asked to be where we are," she reminded him coolly.
This gave Lukas pause, thinking of where she was, what she'd been through to get there.
"What we control," Juliette said, "is our actions once fate puts us there."
Wool is a beautiful thing. A true literary thriller. The Holy Grail other authors spend their entire lives trying to find.*
Bottom Line: You need to read this book, not just to be part of the conversation at cocktail parties, but because you will be a better person for it.
Peace, Seeley
* Not me, I'm good at writing fast paced pistol-packing, fist-fighting, heiress stories and have no ambitions toward boring literary crap. Maybe if I could write like Mr. Howey I'd change my mind. But. I'm an unrepentant philistine.
Sock Puppet NOTE: MY REVIEWS ARE MY REACTIONS TO THE BOOKS I READ and not a response to the voices in my head. I have no relationship, financial or familial, with the author. I do not expect, but would not refuse, any reciprocal reviews or recommendations. Just sayin.
Category: Reviews