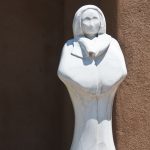 I need your help. I created a fictional heroine who is an amalgam of the many powerful women I've known in real life. Rather than go on about my mother, daughters, wife, sisters, ancestors, etc. I need to hear about your female role models. Who is your real world inspiration?* Once a month I will post a short bio of an inspirational woman under Heroine of the Month.
On December 12th, 2012, I wrote the first version of this blog, then titled Heroines Among Us and set it to post automatically on Monday the 17th. On December 14th, the tragedy at Sandy Hook Elementary shocked the world. Having three children and three grandchildren, I, like you, was sympathetically wounded. I immediately cancelled my post.
Since then, I've agonized over the most respectful way to discuss heroines without dishonoring Newton. The questions raised about the heroines of Sandy Hook are still too raw: Ignore their sacrifices? Impossible. Do you honor the forty-seven-year-old Principal, Ms. Hochsprung, who died almost immediately? Or teachers like twenty-seven-year-old Victoria Soto who tried to protect her students? Or Kaitlin Roig, who somehow managed to save hers?
Because I've no desire to take advantage of their memories, I decided to leave that discussion for a time in the future when calm reflection might bring more meaningful admiration.
Instead, I've decided to press ahead with a call for extraordinary heroines from any and all walks of life. Beginning next month, I will post a short piece about a heroine nominated by you, the reader.
Here are examples of three women I believe are inspirational in three very different ways:
Lori Piestewa, a single mother who gave her life in service to her country during the first invasion of Iraq (2003). She was the first woman killed in that war and the first Native American to be killed in combat while serving in the US Army.
Claressa "T-Rex" Shields, a 17-year-old teenager from Detroit who overcame crushing poverty and a violent neighborhood to become the first woman to win the Olympic gold medal in Middleweight Women's Boxing.
Kay Krill, CEO of Ann Taylor, who asked her store managers what the company needed to do next (thinking the answer would be 'sweaters') and ended up creating a foundation that has already distributed $25 million to charity.
Who are your real world heroines? Enter your thoughts in the comments section below. Give it some thought overnight and come back, see if you still have the same woman in mind.
Peace, Seeley
* Nationally recognizable women, living or dead, please.