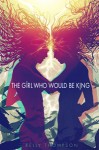 The Girl Who Would Be King — by Kelly Thompson $4.99 E
This book is better than Hunger Games. A hell of a lot better. More exciting, more innovative, more fascinating. And yet Traditional Publishers won't touch it. Why? Because it doesn't fit their formula. It has no genre, no shelf at B&N, no section in the library. It doesn't fit neatly in a marketing plan.
They can't handle it.
But you can.
The Girl Who Would Be King is not a Young Adult title. It's not an action adventure, or a thriller or a romance or a this or a that. It's a surprise and an addiction and a romp and a guessing game. You cannot predict what the characters will do on the next page—because you have not read a book like this.
You need this book.
Why? Because you're smart.
You're not interested in reading another mystery-by-numbers book: the dead body in the locked room with three suspects and a bloody knife. Those are simple books for simple times. You want a book that is so innovative the mystery involved is not 'who dunnit' but rather: WTF is Kelly Thompson going to write on the next page?
This book is long. This book has typos. This book could use a professional editor. But none of that will bother you no matter what kind of editor-nazi you are when you read other books—rules don't apply to something this original. When you read this book, you know you're reading something extraordinary. You know you're reading an archetype.
President Ronald Reagan coined the phrase "unputdownable" when he endorsed Tom Clancy's first book. It was hyperbole. And every book since has carried that non-word somewhere on the jacket. The Girl Who Would Be King is different. It's a siren. Homer's kind of siren. You put the book down, grab your keys, but you stop because you hear that siren singing. You shake it off, you head to the car and there it is again, the siren-book singing to you, 'come read another page; just one'. You stop three steps from the front door … because the siren's song is irresistible. You look at your watch. Yeah, sure, you can squeeze in just one more page. The next thing you know, you're holding your phone three inches from your ear while your boss shrieks, "You don't have any more sick days!"
Wrecked on the rocks of Anthemusa. You can only hope someone like Penelope is waiting for you. If not… at least you have a good book with you.
Here's another thing to add to the list of things that are awesome about TGWWBK: You can't wait to read the ending that you don't want to end. You want to know what happens, but you want to keep reading. You want more. There has to be more. Even my cynical wife (who wasn't cynical until after our wedding—predictably) was surprised by the epilogue.
In every book I read, I highlight like an adoring fan. I seek out unique passages that might define the book or the writing. In this book I highlighted more than usual. A lot more. TGWWBK is full of unique passages that change the way we look at characters. From the lowliest minor characters, to the sidekicks and historical characters, everyone has great scenes. Whether they have delusions of grandeur or realizations of grandeur is irrelevant. They just say things in a new and refreshingly different voice.
How about telling mom how you really feel?
"…I only hope that I can go on to the greatness I expect of myself despite the pathetic standards you've set for me."
Or, this passage about jealousy:
"…If you keep acting like you lost something you actually wanted people are going to realize that you're not the most beautiful person to ever operate a cash register."
Or this gem of impatience:
"What?" I ask, not looking up. He tries to speak but has no breath. "Moe, you've got twelve seconds to come up with a sentence and it better not start with 'um'."
See? You need to read this book. It's the kind you can get lost in for a long time and come back to for re-reads. But consider the season and be generous: buy several copies and give them out as presents. Your friends will think you're awesome. You might even start a list.
Peace, Seeley
Special NOTE: MY REVIEWS ARE MY REACTIONS TO THE BOOKS I READ and not a response to the voices in my head. I have no relationship, financial or familial, with the authors. I do not expect, but would not refuse, any reciprocal reviews or recommendations. Just sayin.